To a greater or lesser extent, we know the importance of a clean and tidy place, but do you really know what the added value of a cleaning is in this type of company? It is essential to remember that each factory or industrial warehouse requires specific cleaning and disinfection processes. Let's see the meaning of proper sanitation and its characteristics.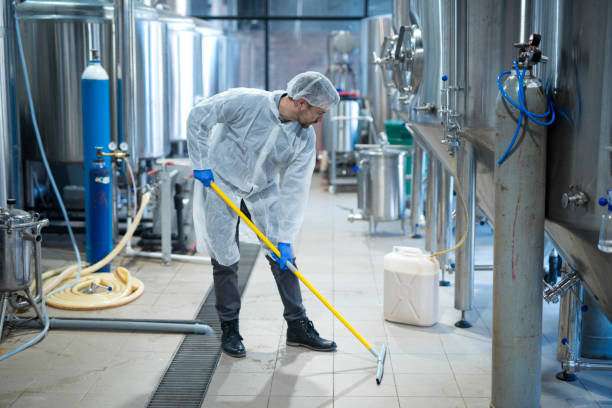 What does it comprise and why is it important?
It might seem obvious, but it is not. This activity refers to the set of techniques and procedures designed to establish and control hygiene periodically in order to contribute to the correct functioning of a company's production.
The importance of this activity is mainly because it is part of the Good Manufacturing Practices (GMP), the basic principles that an organization requires in order to guarantee adequate sanitary conditions and reduce the risks of production, especially in those related to products for human consumption or of a delicate nature such as medical instruments or medicines.
We consider that today a deep cleaning is essential to promote good work performance, but it is not the only one for this purpose. These days, disinfection and sanitization are already an essential part of strengthening the situation of workers and their safety.
Who or what benefits?
It helps and is necessary to ensure the care of tools, equipment, and/or machinery used in industrial processes.

The more frequent and better elaborated the cleaning is, it will favor not only the useful life of your machines, but it will also be cheaper when they need subsequent maintenance.

It improves productivity since we have proven that in a clean and tidy environment, the risk of accidents drastically decreases.

Cleaning in warehouses has a decisive influence on the work environment, generating positive conditions for employees as they enjoy a clean and safe environment.

Finally, and among many other benefits, there is the care and impact of the corporate image, since it is important not only in the employee's mind but also of the client.
What tools or equipment do we use in these procedures?
There is a considerable variety of machines that are used for the hygiene of industrial buildings or factories, it all depends on what treatment the company requires. We divide these according to the energy they require for their operation, for example:
Manual equipment is those that do not have a motor and are used in a conventional way by the cleaning worker. These are lighter than power tools, are quiet, and provide a good basic clean.
Machines that use electrical energy provide greater freedom of movement, more detailed and deeper results, as well as cover more space in places that are not so easy to clean. These are more suitable for more specific jobs, from removing deep stains on the floor with sweepers and polishers, thorough washing with special equipment, to sanitizing and disinfecting remote and inaccessible areas. The power of the machinery used is higher than that of domestic use.
In addition, the chemicals to clean or disinfect have a deeper cleaning capacity precisely because of the facilities and the type of company it is.
What should I consider implementing this practice in my company?
Mainly the safety of your workers, if they work with toxic substances in your factory or industrial warehouse, or if the workplace is more likely to be a source of infection by bacteria, fungi, viruses, and/or microbes, specific and continuous cleaning will be required. In the hands of professionals.
Your products and the quality of the process also depend a lot on cleanliness and hygiene, so if your company has requirements you cannot cover with your own cleaning employees, you'd better consider looking for other options.
The importance and need for industrial cleaning and its implementation in Good Manufacturing Practices are gaining more and more relevance in manufacturing companies because of its impact on the result, from increased productivity to preserving product quality.
We invite you to review the various services we can offer for the manufacturing sector. We always have a solution that suits your needs.